Before we get in to mother and daughter quotes, let's talk the mother daughter connection: there is no stronger phenomenon in this world than a mother's love, and from that love stems the mother daughter bond. Sometimes, it can be fraught with arguments and drama.
But, in the end, your mother's arms are always open and waiting for when you need her.
Where can I use these quotes?
Perhaps you're looking for the perfect mother and daughter quote to write inside this years Mother's Day card, or perhaps you just want to show your mom your deep affection and appreciation for all those joyful moments.
You might want to forward one of these to you mom to cheer her up, or just as a random reminder of how much you love her- our mother daughter quotes are very versatile and you're sure to find one that suits you mother daughter bond.
Whatever your reasons, we've compiled a collection of the sweetest quotes that celebrate the mother daughter relationship and are sure to make your mother smile.
You might also want to check out our Letter of Love and Appreciation to Mama
From the Daughter's Mouth: Mother's Day Quotes from Daughters
These heart warming quotes testify to the unconditional love and unique bond between a mother and a daughter. Perfect for Mother's Day, these quotes really show your mom how much you value her as a lifelong friend and soulmate.
From the days of rocking baby to sleep to changing diapers, mom always had your back. The relationship between mothers and daughters often becomes even deeper when you find yourself doing those things for your own baby!
You want to recognise everything that your mom taught you, that precious unconditional love and all the happy memories you share. From being just a little girl watching her warrior mom, growing in to a young woman and perhaps a mother yourself, you want to honour your blessed mom.
Sentimental Mother daughter relationship quotes from a Daughter
It can be hard to find strong quotes to capture the beauty of the mother daughter relationship, so we've compiled the best mother daughter quotes to make the task a little easier.
These beautiful mother and daughter quotes pay tribute to all those times you found solace in your mother's arms, for the valuable lessons a mother teachers and
"Mom, I'm getting more like you every day. I couldn't be prouder!"
"Mom, you are the best friend I could ever ask for"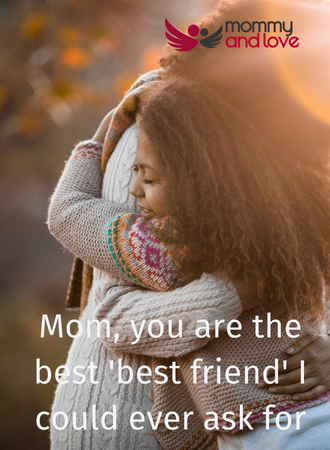 "To the whole world you are my mother. To me, you are my whole world."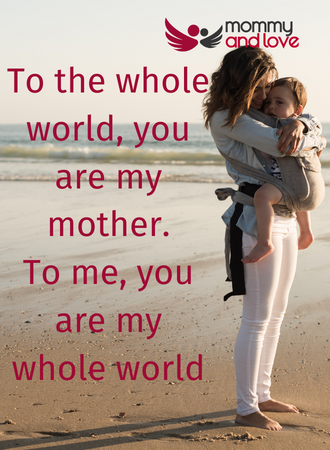 "Because of you, I am everything I am today. Thank you Mom!"
"The only thing better than having you as my mom is my children having you as a grandmother"
Inspirational Mom and Daughter Quotes
There are plenty of beautiful mother daughter quotes out there, but if you're looking for something to really highlight the impact of a loving mother daughter bond, look no further!
If you're a strong woman, you will know that your mom, a strong woman raised you to be that way. That same queen raised you to go out, spread your own wings and make your own mark on the world.
The relationship between a mother and a daughter can really begin to blossom when you have children of your own- mom will be there to help with breastfeeding tips or to listen to you rant about your baby waking every hour. Mom has been there before after all!
"All mother's characteristics are absorbed by daughter's personality so that it's not clear where the mother ends, and the daughter begins. It's pure magic."
"God couldn't be everywhere so that is why he invented mothers."
"My mom taught me a woman's mind should be the most beautiful part of her"
"A mother is not a person to lean on but a person to make leaning unnecessary."
Funny Quotes for a Mother and a Daughter
This is the post for you if you're looking for an incredibly humorous take on all those mother and daughter arguments!
As with any relationship, there are bound to be a few tears along the way, but you know deep down that your mother wanted what was best for you always- you an be sure your mother shed some tears too!
"Mother-daughter disagreements were, in hindsight, basically mother stating the truth and daughter taking her own sweet time coming around."
"Mother and daughter got on very well indeed, with a deep affection founded on almost complete misunderstanding."
"Mother. One person who does the work of twenty. For free."
"What's it like to have the greatest daughter in the world? I don't know ask your grandmother."
Sweet Quotes for Mothers and Daughters
A mother and daughter are friends forever and these touching quotes pay tribute to a mother's love for her dear daughter, as well as a daughter's life long appreciation for the unconditional love that only a mother can give.
As a little girl grows and navigates middle school and junior, friends will absolutely come and go, by the perfect mother is a child's soul mate and best friend. These adorable quotes are all about that beautiful mother daughter unconditional love.
"A mother's love is like an everlasting bed of roses, that continues to blossom. A mother's love bears strength, comfort, healing, and warmth."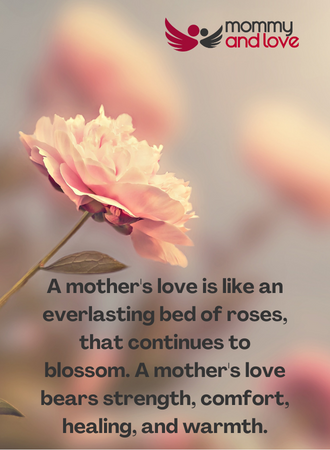 "A mother is the only person in the world, who can turn daughter's worries and fears into happiness"
A mother's treasure is her daughter."
Mother Daughter Quotes for Strong Independent Women
"A loving and careful mother both recognizes and even protects her daughter's autonomy and also helps her dance out confidently on to a wider stage."
"A daughter makes a mother's life brighter and the mother makes daughter's life warmer."
Mother Daughter Quotes from Moms
Many of the stunning mother daughter quotes out there focus on all that mother teaches her daughters, on all of the things mothers do for their little girl – so if you're a mom looking to express love for your dear daughter, you might find it harder to find the quote you're looking for.
You might have heard "First my mother, forever my friend" but the same is true in reverse: a daughter can be strength and best friend to her mom. Indeed, mom's tend to have some much empathy they feel they are walking in the same shoes as their daughters.
These mother daughter quotes are from the perspective of moms- because every mother smiles when she remembers raising her precious little girl- who may be grown up and a mom in chief herself!
Don't fret mom- they may outgrow your lap but they never outgrow your heart and arms!

"Becoming a mother forced me to have hope"
"A daughter may outgrow your lap but she will never outgrow your heart"
"We mothers are learning to mark our mothering success by our daughters lengthening flight" – Letty Cottin Pogrebin
"Of all the haunting moments of motherhood, few rank with hearing your own words come out of your daughter's mouth."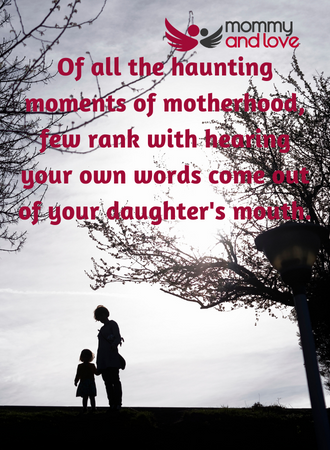 "Dearest Baby, no matter how old you get, you'll always be my baby girl."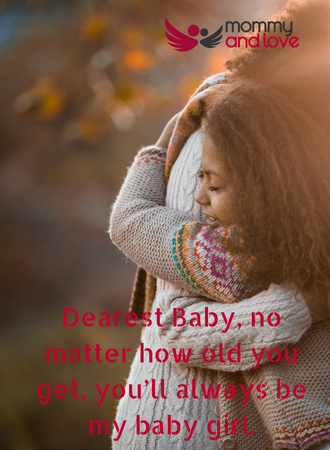 "I did not give you the gift of life, life gave me the gift of you."
Mother Daughter quotes (in the toddler years)
The toddler years can be pretty hectic….and these mother daughter quotes reflect all the highs and the lows.
As your little girl starts to get her first tastes of independence, it can be hard as a mom to watch. Rest assured, a daughter always needs her mom!
"I wouldn't change my daughter for the world…but I wish I could change the world for my daughter"
"There are places in your heart you didn't even know existed until you hold your baby girl in your arms"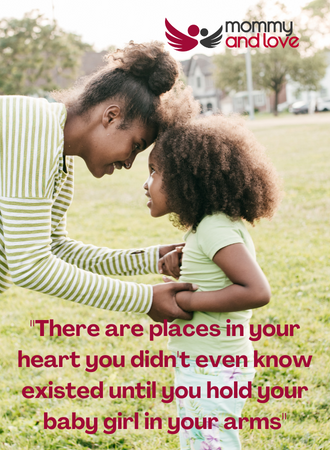 "My daughter can achieve more in one unsupervised minute than most can manage in a day"
Mother Daughter Quotes for your Angel Mother
Again, while there are plenty of quotes out there about the living mother daughter relationship, it's important to honour the woman who held your hand as a little girl- even if she is no longer with us on earth.
The relationship between mothers and daughters transcends time and space, only this love lives beyond death. These mother daughter quotes respectfully and lovingly pay tribute to you mom.
"I have an Angel in Heaven, Her name is MOM"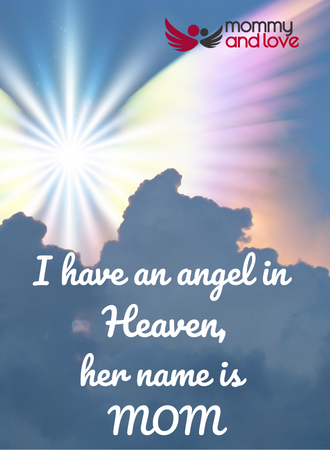 "Those we love don't go away, they walk beside us every day"
"I truly never understood the word 'I miss you' until I reached for my mom's hand and it wasn't there"
Quotes about the love between a mother and a daughter: A Final Word
The mother daughter ties are simply unbreakable and as a result, there are so many beautiful quotes out there for mothers and daughters to read and share together.
We hope you've enjoyed our compilation of heart warming mother daughter quotes, all in honour of the bond between mothers and daughters.